Tandem Skydiving - Amazing experience and unique coastal views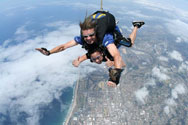 Experience the thrill of freefall - attached to a tandem instructor, all you have to do is enjoy the rush. Skydiving over the beach offers amazing coastal views. We use the latest parachute and safety equipment including automatic activating devices.
No need to worry - just jump and enjoy! Experience Sydney's only coastal skydive. You'll freefall from 14,000ft in tandem with an experienced instructor over the beach in Wollongong.
Only 15 minutes of instruction is required before you jump, which makes this activity perfect for people with no previous experience.
Romantic Seaplane and Beach Picnic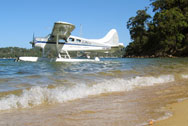 Escape on your seaplane flight! Let us provide you with a scrumptious gourmet hamper and spoil you with a fine bottle of Australian wine. The pilot will find you your very own secluded beach in the middle of the national park. What you do for the next three hours is entirely up to you.
Canoe your Kayak along Sydney Harbour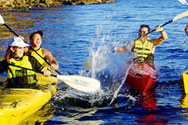 NSW See the most beautiful harbour in the world from a different perspective. Discover the hidden beaches, explore the wilderness foreshore and experience this majestic harbour like very few visitors ever will. The sea kayaks are sleek, quiet and easy to paddle and will take you to places no other watercraft can. We use stable sea kayaks and expert kayaking guides to explore some of Sydney Harbour's secret beaches and hidden coves. Schooling fish, exotic sea birds, seals and penguins are often seen on these tours.
4WD Winery and Wildlife Tour
Journey by 4WD through the peaceful Watagan Mountains, looking out for wildlife, to the historic Hunter Valley and some of the best vineyards in the country. Sample some superb wines, complemented by lunch in the vineyards. Depart Sydney for Australia's premium wine region. Cross the Sydney Harbour Bridge, see Kuring-gai National Park and the spectacular Hawkesbury River.
Leaving the city behind, you will now enjoy the peace of the Watagan mountains, encountering wildlife such as kangaroos, goannas and Bellbirds. After morning tea at 'The Pines' we explore Wollombi Township and pub, then on to an old family winery for wine-tasting before a delicious restaurant lunch served in the heart of the vineyards. After this we explore two more vineyards.
Departing the wine country mid-afternoon, you return directly to Sydney.
4WD Beach Cruise and Dolphin Spotting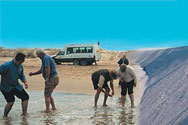 A 4WD journey to the magnificent 'Desert by the Sea' sand dunes, then a drive on the 40km Stockton Beach. The adventure takes to the water of Port Stephens in search of dolphins, followed by lunch at a local seafood restaurant. Depart Sydney for Port Stephens in an air conditioned 4WD. Travel across the Harbour Bridge and past the towering sandstone cliffs of the Hawkesbury River. Arriving at Williamstown, commence your 4WD trip to the stunningly beautiful 'Desert by the Sea' sand dunes and 40km beach at Stockton.
Travel to Port Stephens to lunch at a spectacular local restaurant. Fresh seafood is on today's menu. Relax overlooking the picturesque marina. After lunch join our dolphin watch cruise into the calm waters of the bay. The expert crew bring pods of wild dolphins into view with a 97% success rate at finding dolphins .Return to Sydney by approximately 6.30pm.
For more gift ideas see RedBalloon below:
Before you leave please bookmark so you don't have any problems finding us again.